Psychological Romantic Suspense
Date Published:
November 21, 2018
Lizzy Adams spent the summer pining for Tyson Smith, the sexy security agent whose instruction at a safety seminar saved her life. Now, every man she meets is measured against the absolute awesomeness of the brawny black man with the soulful eyes, the baritone voice that whispers over her like a velvet caress, and a smile that turns her knees to jelly. Now she just had to get him to notice her.
Tyson Smith had a lot of respect for Lizzy Adams, the spunky teacher who freed herself from the clutches of a deranged miscreant who'd wanted to take her hostage. But his concept of her wholesome 'girl-next-door' image was challenged the night she showed up at a company barbeque dressed as a flirty cowgirl. Always the gentleman, he managed to keep his eyes off her assets as she strolled around the farm. His mother had raised him better, but there was no denying that she was every man's 'American Beauty' fantasy. But the night he'd shown up at her doorstep to help her out altered their relationship forever. Between the fear in her eyes and the baseball bat perched on her shoulder, his protective side surfaced, and he handed her a piece of his heart.
Their whirlwind romance is threatened when a man from Lizzy's past attacks her. Sam Clark wants vengeance for his son. He blames the jurors from Jason's trial for Jason's death and crafts a hit list. But killing Lizzy, the scrappy survivor, is harder than he thought. After Sam fails at his first attempt on Lizzy's life, he resolves to kill her before he's forced into hiding. He just has to get past the big, black man who appointed himself Lizzy's protector.
About the Author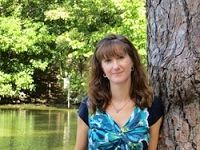 Karen Tjebben lives in central North Carolina with her wonderful husband, twin daughters, and two hamsters. When her girls left for kindergarten, Karen discovered that she needed to fill her days with something, and that was the beginning of her new career in writing. She loves to create worlds filled with unique characters that she hopes will delight and raise goose bumps on her readers. In her free time, she enjoys traveling with her husband and seeing the world through her daughters' eyes.