A Heartbreaker Novel, Book 3
Published:
October 16, 2018
Brent Keiser, a certified genius, and forensic accountant work for the FBI mostly because of their awesome retirement plan. Growing up homeless with a ditzy mother can make a guy be a little obsessive in the saving for the future department. But just once, he'd like to get out in the field, maybe actually fire a gun or chase after a bad guy like the other agents. Although, solving crimes with his calculator is statistically much safer, and he'd live to enjoy that house on the beach he saves for each payday.
Sara Chapman used to be a card-carrying member of the Hollywood rich kid pack, but after serving community service, she said goodbye to her spoiled friends. Seeing the plight of the homeless up close and personal gave her a new direction. But that doesn't deter the annoying paparazzi. Her parents were the famous ones, not her. Sara's only recent claim to fame was for having the most embarrassing public break up in the history of the entire world. Unfortunately, they don't give Oscars for those, so she is trying to keep her head down and to stay as far away from single men as possible.
But then Sara becomes unknowingly tangled up in Brent's money laundering case against her father. When it becomes hard to tell the good guys from the bad, she turns to Brent for help. While on the run for their lives, the built, nerdy accountant with magnificent abs, transforms into her personal superhero. Opposites in almost every way, will Brent see her as his Kryptonite or his Lois Lane?
Other Books in the Heartbreaker Series:
A Heartbreaker Novel, Book 1
Publisher: Montlake Romance
Dani Botelli has vowed to step out of her demanding movie star mother's shadow and is determined to start a new chapter in her life. But two men vying for her attention are making for double the trouble. There's Jake, her police detective almost-ex who wasn't so hot as a husband but still has the hots for Dani. And as usual, he needs her intuition and visions to help him solve a crime. Then there's her high school crush, Michael, a former NFL pro who's now her mom's hunky lawyer.
Working alongside Jake, while keeping her special gifts under wraps, is proving to be more dangerous than Dani realized. She needs to stay out of harm's way—and out of Jake's flirtatious path—long enough to find out if Michael is the one. But will her hard-to-explain hunches be the secret that comes between them?
A National Reader's Choice Award finalist.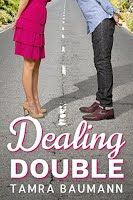 A Heartbreaker Novel, Book 2
Publisher: Montlake Romance
Falling in love can leave anyone feeling a little exposed…
Archaeologist Gabby Knight has been living under an assumed identity to steer clear of her mobster father's enemies. But when she suspects her father of plotting to steal a priceless statue buried in New Mexico, she risks everything and sets out for the desert to beat him to it—and to save him from making a grave mistake. Breaking into a secluded cabin to wait out a blizzard, she's not worried about visitors. It's not like anyone would be traveling in this kind of weather…right?
Wrong. Detective Jake Morris has been ordered to take an overdue vacation, so he's looking for some quiet time in the isolated retreat. But getting clobbered over the head by an auburn-haired firecracker wielding a cast-iron pan wasn't the relaxing start he had in mind. Using a lot of charm and a little help from his prophetic ex-wife, Dani, he soon discovers who the sexy intruder really is.
Serving justice is in Jake's blood, so he can't help but join Gabby on her quest to protect the statue and catch a thief. To properly do his job, Jake knows he can flirt but better not fall. After all, what kind of future could a cop and a mobster's daughter hope to have?
About the Author
Tamra Baumann is an award-winning author of light-hearted contemporary romance. A reality-show junkie, she justifies her addiction by telling others she's scouting for potential character material. She adamantly denies she's actually living vicariously in their closets. Tamra resides with her real-life characters—her husband, kids, and their allergy-ridden dog—in the sunny Southwest. Visit her online at www.tamrabaumann.com and on Facebook at www.facebook.com/author.tamra.baumann.