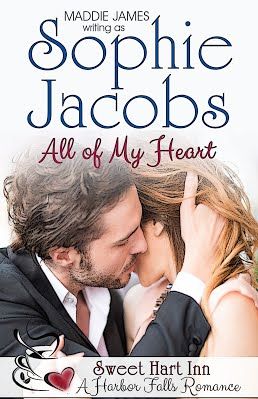 Publisher: Sand Dune Books (indie published)'
When Suzie Hart inherited the lakeside Victorian cottage that would soon become Sweet Hart Inn, she imagined her life all planned out ahead of her. She would run the inn, write her recipes, and pick up an occasional catering job with her cousin Sydney. What she didn't plan on was Brad Matthews.
Suzie Hart has it all. A beautiful home, friends and family, and the sweetest job in the world. She's the best darned cook in Harbor Falls, North Carolina, and has the street cred to prove it. She runs her own bed and breakfast, writes a food blog, and is working on her first cookbook.
Wrong. You see, Suzie has a secret. And when that secret rides up to her doorstep on a bad-ass Harley and tosses her not-so-perfect little world into some kind of big, bad tumble, happy-go-lucky Suzie panics.
Brad Matthews doesn't have a secret, he has a plan--and that plan includes luring Suzie back into his life. When she worked as his sous chef in Asheville, he had no intention of falling in love with the sassy chef, or any woman for that matter. No room in his life for romance. But when Suzie disappeared and took Brad's heart with her, his good intentions shattered. Now that he's found her again, he's not about to let her alter the new path he's set out for his life--and hers.
About the Author
Sophie Jacobs writes to silence the people in her head, and she needs two pen names to get the stories down! (If only cloning were so easy.) Whether writing contemporary romance or women's fiction, she strives to get their stories told. Writing as Maddie James, she pens romance genre fiction from cowboys to suspense. RT Book Reviews says, James "deftly combines romance and suspense," and Affaire de Couer claims she "has a special talent for traditional romance." Published in print, ebook, audiobook, and in at least seven languages, Maddie has been listed as a Top 100 Romance Author on Amazon and as an iBooks Rising Star in Western Romance.