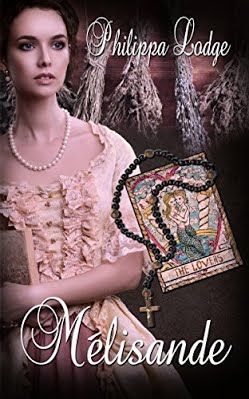 Châteaux and Shadows, Book 5
Date Published:
July 19, 2017
Lucas de Granville—pious, respectable, impoverished, lonely—will do nearly anything for the godfather who raised him, even though his godfather doesn't seem to want to do anything for him.
Melisande—mundane, illegitimate, dirt poor, lonely—will do nearly anything to make sure her mother and brother have shelter and food, even though they are critical of her lack of magical talent.
When Melisande's father, a pious comte, sends his godson Lucas to bring her to Versailles and help him train her to be a fine, staunchly religious lady, their attraction is immediate, but so is their distrust.
Her eagerness to get as much money as she can as quickly as possible gradually changes into a wish for something higher, better, and holier. Something that Lucas can help her achieve: love.
Other Books by Philippa Lodge:
Châteaux and Shadows, Book One
Publisher: The Wild Rose Press
Aurore was delighted when a marriage was arranged with the boy she loved, her older brother's friend Dominique, Comte de Bures. But in a few years the first rush of joy has worn off, and their promising life seems ruined by loss, betrayal, and misunderstanding. One terrifying morning mercenaries overrun their château and usurpers take Aurore hostage. Miles away at Versailles, where he is required to dance attendance on Louis XIV, Dominique is nearly killed by a crossbow bolt. Escaping, Aurore travels with a troupe of itinerant musicians, hiding in the open while discovering hidden resources within herself. Dom sets out to find his wife. He needs his old life back. He needs revenge. But his lands, his title, and his honor mean nothing unless he can win back the love of his indispensable wife.
Châteaux and Shadows, Book Two
Publisher: The Wild Rose Press
Hélène de Bonnefoi's spirit has been squashed by the ever-critical aunt and uncle who raised her. Serving as nanny and stand-in mother to her cousin's child has saved her from the convent, especially after her cousin's death. When suspicious accidents threaten the toddler, Hélène overcomes her near-blindness to seek the help of the child's father, a colonel in Louis XIV's army.
Jean-Louis, Colonel de Cantière, has spent his life proving his worth, integrity, and honor, first to his family and now in the army. When his daughter's caretaker appears in his camp during a siege, claiming someone is trying to kill the girl, his loyalties are sorely tested.
Hélène must convince Jean-Louis the threat is real. But the true danger is to the heart of a shy young woman who has always loved her cousin's husband from afar and to the colonel's desire to resist complicated emotions.
Châteaux and Shadows, Book Three
Publisher: The Wild Rose Press
Published: September 2016
Emmanuel, Chevalier de Cantière, youngest son of a baron, is happiest raising horses far from his complicated family. When news comes his mother is deathly ill, he races to her side only to find she has apparently recovered and moved on, leaving behind her companion, Catherine.
Catherine de Fouet blends into the background, saving up so she'll never have to wait on waspish, scheming old ladies like the baronesse again. She has no interest in a resentful gentleman, estranged from his mother, no matter how broad his shoulders or intriguing the wounded soul behind his handsome face. She just needs someone to escort her back to Versailles.
But Catherine is suspected of poisoning the baronesse. She rebuffs a pushy courtier who tries to use blackmail to make her his mistress, and her reputation hangs by a thread.
The chevalier wants more than anything to protect this woman whose prickly exterior hides sweetness and passion. They need his family to help him through court intrigues—almost as much as they need each other.
Châteaux and Shadows, Book 4
Publisher: The Wild Rose Press
Henri de Cantière has been surly since he returned from visiting his family at Versailles, but he doesn't want to burden Marcel Fourbier, his longtime lover, with his problems. He can't sleep and hurts all over at exactly the time when everything else seems to be falling apart.
Marcel can barely keep up with his usual duties of running their household and creating beautiful furniture in the de Cantière factory when more burdens fall on his shoulders. His estranged Huguenot family condemns him to hell but wants his help, a stranger attacks him in a dark street, an arsonist tries to destroy the factory, and Henri's beloved sister-in-law, who has been like a sister to Marcel, is weakening after being in labor for several days.
Most of all, Marcel wants to find a cure for Henri, the man who holds his heart.
Once upon a time, a long, long time ago in France, there was a witch with no magic.
"Mélisande!"
The stranger's shout echoed inside the damp walls of the tiny house she shared with her mother and her younger brother. If it were the house's owner, who didn't know they were squatting there, he wouldn't have known her name. It didn't mean the voice wasn't trouble.
Her gut whispered unease. Well, who wouldn't have a whisper of unease about a strange man shouting one's name? In one's home? After being the target of more than one lecherous oaf in the streets? And the target of religious people?
She leaned her scrubby straw broom in the corner and peeked up the hall, glad to be shrouded in darkness, grateful for the first time that there was no window except for the tiny, grimy one looking onto the narrow, dark street.
The front door stood open, letting in cold wind, the reek of filth, and weak evening light which left the man as nothing but a silhouette. Even so, Mélisande had another frisson of what her mother would have called premonition but was probably just fear. She was trapped in her house by a large, faceless man with a booming voice. What was not to frisson about?
She drew back into the room, hoping he hadn't seen her. The front door scraped and thumped shut, leaving her in complete darkness. She waited, pressed against the wall much like the plaster: crumbling away from the inside. She held her breath and listened.
Maybe he'd left.
A footstep. Of course he hadn't left; that would be too simple. This was more than her everyday fear: fear the other witches would discover she wasn't one of them, fear they would starve, fear they would be arrested, fear a man would pull her into a dark room and rape her. Everything could go wrong in a heartbeat.
Footsteps in the front room, where her mother read palms and sold the potions her uncle —her half-brother's uncle—made. She hoped the yelling man hadn't tracked anything foul in, as she had just scrubbed those rotting floorboards. A pause as the man listened. At least there was only one man and Mélisande had a sharp pair of scissors, which rattled against the tabletop as she picked them up.
"Mélisande?"
The voice was softer now. Kinder. Lilting. Tempting. The man was going to try to lure her from her hiding place. She hoped he meant her no harm.
A scuff and heavier step as the man tripped on the uneven floor. He halted at the head of the hall, only a few feet from her.
"Ecoutez." He cleared his throat, waiting for her to say she was listening.
Oh, she was listening, but she was hoping he would leave.
He cleared his throat again. She should offer him a tisane of ginger and honey. She shook her head at her rambling thoughts, swishing her hair against the wall.
"Right. I was told you were here. Your mother said you would welcome my news. I'm sorry, but… Well, my shouting is unforgiveable. Your brother and mother angered me on purpose, I believe. They said I wouldn't find you unless you wanted to be found. I suppose it's true, what with witchcraft…"
He paused, listening. Probably expecting her to blast him with a curse. Too bad the worst curse she had ever doled out was when she was ten and made her brother's nose bleed. Of course, she'd hurled a cup at him at the same time.
"Your father wishes to claim you. I'm to take you to Versailles."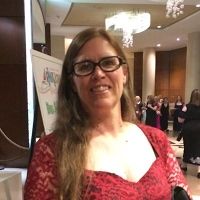 Philippa Lodge has a hundred stories in her head and a social media addiction.


She writes historical romance set in Louis XIV's France; New Adult romantic women's fiction set in small-town, small-college America; and contemporary romance with nerdy beta heroes and cranky heroines whose pasts can be healed with the love of a good man.


She lives with one husband, two cats, and three kids in the inland valley of California.